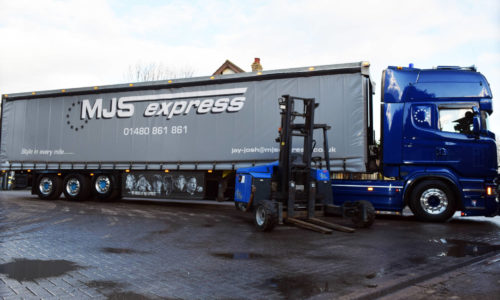 MJS Express Ltd
Overview
When we offered Mark at MJS Express Ltd a two-week free of charge demonstration unit, he took us up on the offer immediately. Mark's first impression of the Terberg KingLifter was excellent, Terberg's build quality and attention to detail was clear for him to see.
Scope of Work
MJS Express Boost Delivery Times with Terberg KingLifter
MJS Express Transport & Warehousing Ltd have invested in a new Terberg KingLifter MC, fitted with extending forks and a patented 3.5m Pantograph mast with slide shift following a successful demo. MJS Express are a family run business based outside of St. Neots in Cambridgeshire. They are a warehousing and logistics specialist, with a story that spans two generations across nearly 40 years.
Due to the nature of their business, MJS Express collect and deliver a wide variety of loads throughout the UK and Europe, delivering to many different locations and environments.
One of MJS Express' main contracts is for the delivery of industrial refrigerators to new retail outlets. These outlets are often located in busy high street locations where access is limited. An added complication to these locations is that due to the nature of the business' they are delivering to, access to fork trucks to offload is not always an option.
When MJS Express were offered a 2-week free of charge Terberg KingLifter demo machine Mark Sadler (Director) was thrilled to take the chance. Mark's first impression of the KingLifter was excellent, but it was over the 2-week period that both he and his team realised how beneficial the KingLifter would be to their business.
Unloading long loads in tight urban areas can often be complex, with limited access and a lack of space being a common issue, let alone the numerous extra hazards that have to be contended with. MJS found that these were easily conquered as the KingLifter machine taken on demo included 4-way steering. This feature meant that MJS could now travel sideways alongside their trailer with their long refrigerators, as opposed to traveling to site with the refrigerator transverse across the road.
Delivering into tight confined town centres means parking is often limited, having to turn the truck around to access the other side is not only problematic but also time consuming. Due to the KingLifter having extending reach forks, MJS were now able to offload their entire trailer from only one side, and therefore not having to move it. Hydraulic fork positioners made this even quicker, as now MJS Express could move between differing load/pallet sizes effortlessly, and mount onto the back of their trailer quickly, moving onto their next job both quickly and efficiently.
At the end of the 2-week demo, Mark concluded that the KingLifter would be a fantastic addition to his fleet, and purchased the very same unit taking immediate delivery.
Mark commented "The KingLifter has really helped improve our delivery productivity, especially with its manoeuvrability and one side offload. My drivers now fight to decide on who gets to use the machine on their deliveries."
If you need warehousing or logistics solutions, particularly long loads in urban areas, then contact Mark at MJS Express on: 01480 861861
MJS Express Machine Specification
Terberg KingLifter MC
All Wheel Drive
4 Way Steer
6 Metre Pantograph Mast with side shift
Extending Reach forks with hydraulic fork adjuster
If you would like to try a Terberg KingLifter yourself, then please contact us on:
Telephone: 01536 720444
E-mail: sales@bennieequipment.co.uk